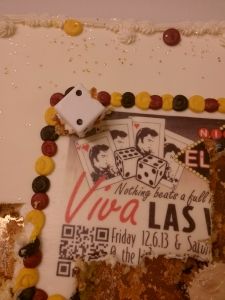 Happy Holidays, y'all! 'Tis the season for giving and a great way to give and have a blast at the same time is to head to Baltimore for the 22nd annual Night of 100 Elvises.  Besides being a tribute to Elvis, the evening is most importantly a benefit for Johns Hopkins Children's Center – a very worthy cause indeed and they need your $$$. 
Being a part of this show from its first year at Lithuanian Hall has given me quite the collection of memories.  Some amazing and hilarious times, many too crazy to mention.  No, it wasn't me that shoved someone's face in the Elvis cake or came waltzing out of the men's bathroom because the line was too long in the women's… It's all hearsay! 
So if you haven't made plans for this Saturday night, December 5th, and wondering what to do, I highly advise sporting your best Elvis/Charm City get up and hightailing it up to Baltimore.  You will not regret it!  Have any fav memories of Night of 100 Elvises you'd like to share? – you can comment below. 
Big luv,